That's only a simple graphical representation of the prototypes we have identified. This kind of map requires a lot of customization. The most important thing is: identify all the people involved in the decisional process and make the association with your prototype. We must know the role of our sponsor and the presence of a saboteur.
In the design phase, we should assume which need, straits or risk the role faces up to operate and archive its objectives.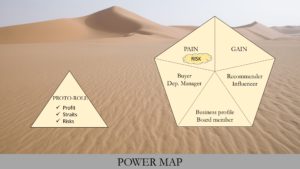 When we have the design guideline we could compare with the person. To improve we must give a feedback to the designer. The end of the process is a profile map for each proto-profile identified in the decisional process. More is the match with the design more we are effective in the proposal.